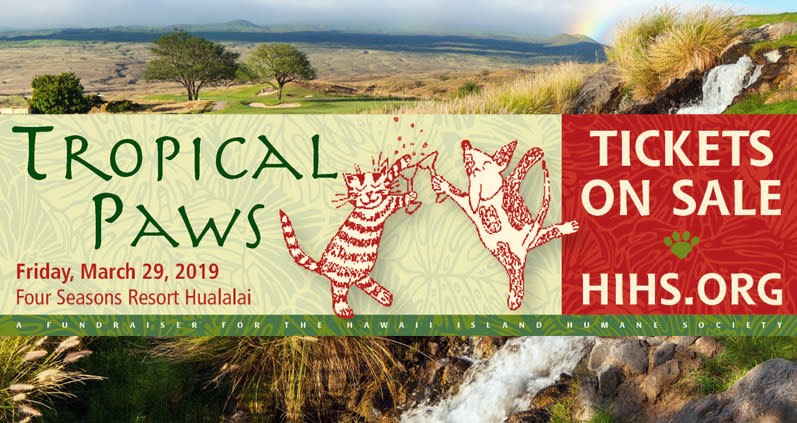 If you are looking for something other to do than visiting pristine beaches and drinking world-famous coffee, the Big Island has some events coming up that may spark your interest.
March 16, 2019
North Kohala Community Resource Centers Annual Golf Tournament: Annual 2-person scramble benefiting N. Kohala Community Resource Center, supporting nearly 90 charitable community projects. Camaraderie, food, fun, and prizes. To be held at Hapuna Golf Course at Mauna Kea Resort. Projects supported by the Center range from student after-school programs to athletics to farm-to-market projects and more. Sponsorships available! Time: 6:45 AM to 2:00 PM. Cost: $150. For more information, call (808) 889-5523, email [email protected] or visit northkohala.org.
March 16, 2019
Annual Magic Spectacular Benefit - Aloha Theatre, Kainaliu: Benefiting SKEA (Society for Konas Education & Art). Featuring a famous magician as a headliner, with local favorites Barry "The Great Barusky" Gitelson, Arnie "Arneleo the Great" Rabin, and others, performing as well. Shows at 2:30 and 7 pm. Call (808) 328-9392 for more info. Tickets are also available at apachawaii.org. For more information, email [email protected] or visit skea.org.
March 24, 2019
Kamuela Philharmonic Orchestra Concert - Kahilu Theatre, Waimea: Join the Kamuela Philharmonic Orchestra for its season finale "Of History & Nature" on Sunday, March 24, 2019, at Kahilu Theatre in Waimea. Verdi, Brahms, and Mahelona —say it all! A widely diverse experience awaits you and your family as KPO closes out its season. To be performed - Verdis Overture to "Nabucco;" Mahelonas Symphonic Suite from "The Battle of Kuamoo;" and Brahms Symphony No. 2 in D major, op. 73. Time: 4:00 PM; Tickets: $15 - $50. For more information, call (808) 885-6868, email [email protected], or visit kamuelaphil.org.
March 29, 2019
Tropical Paws Benefit - Four Seasons Hualalai Resort: Time: 6-9 pm. Featuring live and silent auctions, a gourmet buffet, live music, and the opportunity to purchase fine collectibles, artwork, hotel stays, and more at the abundant silent and invigorating live auctions. $175 per person. Call 808-329-8002, email [email protected], or visit hihs.org for more info or to purchase tickets.
March 30, 2019
Day at Hulihee - Kailua-Kona: All-day entertainment by local hula halau, an enticing bake sale, a beautiful bounty of floral arrangements and floral lei & fresh produce, treasures from Tutus Attic, and made-in-Hawaii products by island crafters and artisans. Time: 9 am-4 pm on the grounds of Hulihee Palace on Alii Drive. There will be a drawing for a Hawaiian quilt and other prizes throughout the day. For more info, call 329-9555 or visit daughtersofhawaii.org.

For more information about some upcoming Kona events, visit konaweb.com/calendar.

Article information via: KonaWeb.com. Photo credt: HIHS.org and Westing Hapuna Beach Resort