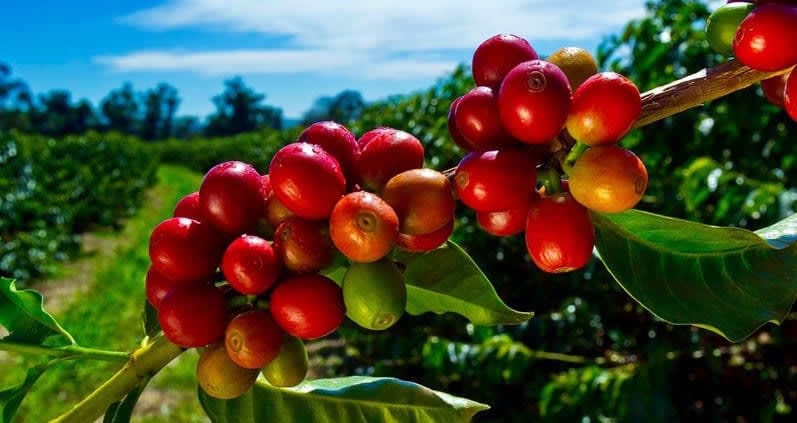 The big island of Hawaii isn't just famous for its beautiful climate and beaches, but the Kona region is also renowned for its world-famous coffee. Our sunshine-filled days combined with afternoon passing showers create the perfect climate for growing coffee beans.

Kailua Kona lies smack in the middle of coffee country on the Big Island. This is the home of Kona coffee: a scenic, tropical and narrow region on the slopes of the Hualalai and Mauna Loa volcanoes in the north and south Kona district.

Kona Coffee is world-renowned and consistently rated among the very best gourmet coffees in the world. If you are a coffee enthusiast you shouldn't visit the Big Island without trying out a good cup of Kona Coffee. You can do this as easily as with a well-placed order in a roadside coffee shack, a cafe, or a restaurant, but you can also go on a farm tour.
What to Expect
There are now more than 650 coffee farms of all sizes clustered along the ±20 miles of scenic roads on the Hualalai and Mauna Loa slopes. Many of these farms offer tours to the public. During these tours, you are typically shown around the plantation to see the growing coffee in the field. Then you are taken through the processes that are needed to go from a growing coffee bean to a cup of coffee (drying, processing, and roasting). Many tours end with a (free) tasting of the coffee, very close to a showroom or visitor center where you can buy the local coffee.

Coffee Tours last on average about 30 minutes and are often walking tours (but with only a little bit of walking). Details though vary on a farm-by-farm basis. Most tours start on the farm, which means you have to drive there yourself. Some tours need to be scheduled ahead of time to make sure there are people to show you around, and many tours are free of charge.

For more information about touring various Kona Coffee farms, visit lovebigisland.com.

Article information and photo credits: LoveBigIsland.com.