Located on the west shore of Hawaii's Big Island, North Kona is one of the most frequently visited areas of the state. Not only does this region (along with South Kohala) have the most accommodations than any other on the Big Island, it also features several exciting hidden gems worth visiting. It's no wonder that North Kona real estate is highly sought after, with a beautiful landscape and a booming tourism industry. North Kona homes for sale stay on the market for an average of 65 days — 36 days fewer than last year's average.
If you're hoping to buy some North Kona real estate soon, you might be interested to know what kind of landmarks and entertainment you will find in the area. You may have heard of the events and attractions that bring visitors to North Kona from all over the world, like the Ironman World Championship Triathlon, but here is a list of some of the lesser-known treasures you can find in this section of the Big Island of Hawaii.
Kanaloa Octopus Farm
Within North Kona is Kailua-Kona, an economic hub located along the beautiful shoreline of Kailua Bay. Kailua-Kona is a popular spot to visit and was once even a familiar retreat spot for the island's royalty. Within this region, you can find several hidden gems, one of which is the Kanaloa Octopus Farm.
Located in the Hawai'i Ocean Science and Technology Park, Kanaloa Octopus Farm is a cephalopod aquaculture research center dedicated to increasing aquatic food production without depleting ocean resources. Simply put, this 4,000 square foot facility cultivates octopi for consumption so as to not threaten the population of octopi in the wild. Visitors can tour the one-of-a-kind wet lab and interact with the animals while learning about aquaculture. It's a must-visit for animal lovers and families with children.
Three Ring Ranch Exotic Animal Sanctuary
Three Ring Ranch Exotic Animal Sanctuary is the only fully accredited, USDA-licensed exotic animal sanctuary in Hawaii. This nonprofit expands across five acres of land and houses zebras, hawks, flamingos, and other rare and endangered species. Visitors can tour the sanctuary (by appointment only) and learn about humanity's impact on the fragile ecosystem and how to respect the lives of animals, just like the ones in the sanctuary. Three Ring Ranch also provides educational programs to schools and libraries that teach children the language of the animals and how to approach them safely. They also offer after-school mentoring, a program that takes on children ages 12-13 once a week and teaches them primary animal care. The goal is for these students to go on to become junior keepers.
Three Ring Ranch is a great place to take the whole family, as their mission focuses explicitly on positively impacting Hawaiian youth by teaching them the importance of environmentalism. This sanctuary is a great educational opportunity for everyone, especially children since that is the organization's focus. Activities like this one are one of the many reasons North Kona homes for sale have increased in price by 9.8% since last year. As of January of this year, the median price of North Kona real estate is $765,000. The market is not currently very competitive, which is excellent news for potential buyers in the region, as they will likely not have to contend with multiple offers on properties.
Kiholo Bay
Hawaii is known for its incredible scenery. Tourists flock to the islands every year to take in the natural beauty along its many beaches. Kiholo Bay is one of the most beautiful natural spots in North Kona, and you will find it slightly off the beaten path. Kiholo Bay is a series of calm tidepools visible from the scenic point near mile marker 82 along Highway 19. Visitors often take in its beauty from afar before heading to the beach to experience Kiholo Bay for themselves.
The mixture of freshwater and seawater gives the bay its distinctive turquoise color, and visitors will notice fascinating landmarks like the Keanalele Waterhole, also known as the "Queen's Bath," a protected freshwater lava tube bath. Kiholo Bay is under park reserve status, and conservation efforts have restored this area to its former glory after years of being frequented much by locals and tourists.
As visitors hike the bay, they should watch for the many sea turtles that love to spend time in the tide pools. The walk through Kiholo Bay will lead to a breathtaking black sand beach, and travelers may even spot some beautiful North Kona real estate along the shoreline.
Kaloko-Honokohau National Historical Park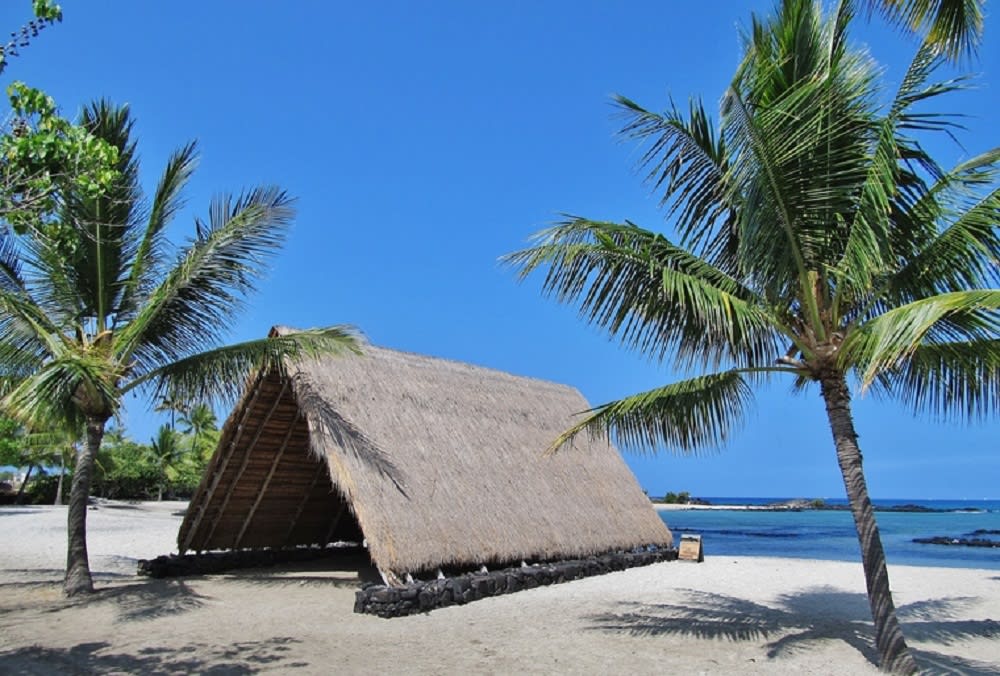 The Kaloko-Honokohau National Historical Park is the perfect blend of beauty and history. If you're new to North Kona, why not head to this stunning piece of land and learn about Hawaiian culture and the island's natural history? This park has been around since 1978, but recent updates, like a visitor's center, restrooms, and trail markers, have made it the perfect hiking destination.
The four-mile hike around the park introduces visitors to fascinating landmarks like temple ruins, remnants of homes and other structures, fishponds, rock art, and petroglyphs. Petroglyphs are centuries-old carvings made by native Hawaiians and another exciting piece of Hawaiian history. Whether you are looking for a day-long excursion or a quick walk with your loved ones, this park is the perfect destination. Make sure to grab a map from the visitor's center so you can find a trail suitable for your needs, and wear sturdy shoes for the rocky terrain.
Looking for North Kona homes for sale?
If you're hoping to settle down in the North Kona area, you will find no shortage of exciting experiences to share with your family and friends. There are several opportunities to learn more about the natural history of Hawaii, its animal inhabitants, and the rich culture of its people. So if you're ready to find North Kona homes for sale, contact Kris Hazard to get started today.