When visiting sunny Kailua-Kona, or
Kona
, on the west side of Hawaii, the terrific weather and astounding vistas invite you to spend as much time outdoors as possible. Of course, you can always spend some time relaxing around the pool at your gorgeous resort, but the Kona area is also full of hiking spots where you are sure to experience something memorable out on the trails. From experiencing the remarkable views of the coastline and blue lagoons to visiting some adorable sea turtles, there is an adventure here for everyone.

Read on for a detailed view of four unbelievable hikes near Kona. Whether you're seeking a trail best suited for hikers with moderate skill or a scene for the truly adventure-seeking at heart, you're sure to find where you belong in the beauty of the Hawaiian landscape.
1. Pu'u Wa'awa'a Cinder Cone Trail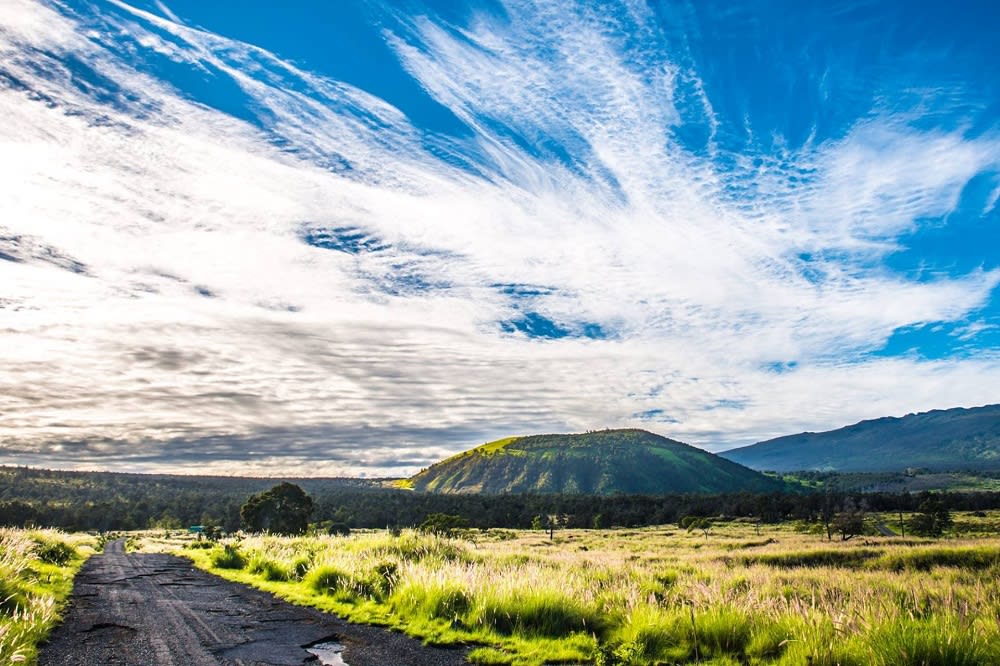 Photo courtesy of Pu'u Wa'awa'a Cinder Cone Trail
If you're up for a more extended day hike, the
Pu'u Wa'awa'a Cinder Cone Trail
offers stunning vistas you won't want to miss. Open year-round and located about 30 minutes northeast of Kona, this 100,000-year-old hike is popular among vacationers and owners of Kailua-Kona real estate alike.
A moderately challenging hike, this 6.5-mile loop leads to majestic views from the top of one of Hawaii's famous
cinder cones
, which develop near sites of volcanic eruptions. Here, you can take in the landscape of the entire Kona coast and more – including Maui. You can choose to hike up and take in the sights of gorgeous grasslands and black rocks of lava remnants along the way, or you may want to bring your bike to enjoy a free-spirited downhill ride at the end.

Plus, keep an eye out for herds of goats and mouflon sheep! Unfortunately, dogs are not allowed on this trail, so you will need to leave your furry friend at home.

Make sure that you begin this trip early in your day, as it might take up to four hours to complete, and there is little shade offered during your hike. Bring your sunscreen and hats, and head out on the trail!
2. Kiholo Bay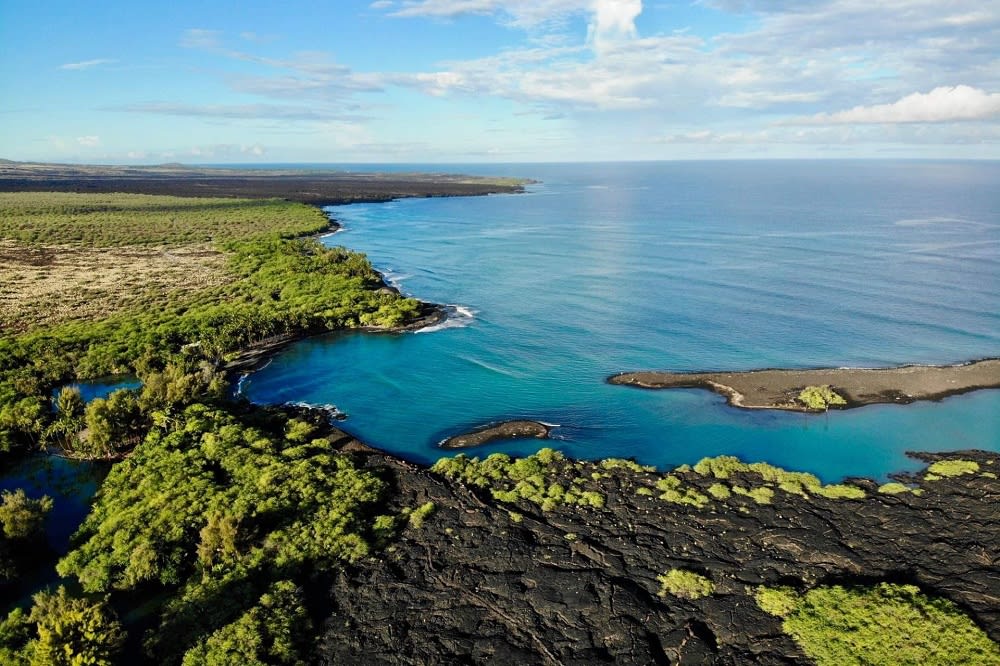 Photo courtesy of Kiholo Bay
An oasis directly between Kona and Waikoloa,
Kiholo Bay
is a must-see for beach-seekers looking for a relaxing, stunning
hike
that leads to incredible views of shimmering turquoise water. Known as the "
blue lagoon
," the protected tidepools here consist of saltwater and freshwater mixed together and are home to families of Hawaiian green sea turtles and goats. At the bay, take a dive in the serene waters and enjoy the great weather under the sun.
The hike here is a 2.8-mile round-trip tour of Kiholo Bay and its beautiful shorelines of black lava sand and coconut-filled palm trees. Along the way, check out the freshwater in the
flooded lava tube
known as the Queen's Bath, which used to serve as a fishpond in ancient times.

Keep in mind that the Kiholo Bay area is protected by conservation measures to keep it looking pristine. Individuals are not permitted to drive vehicles onto the beach.
3. The End of the World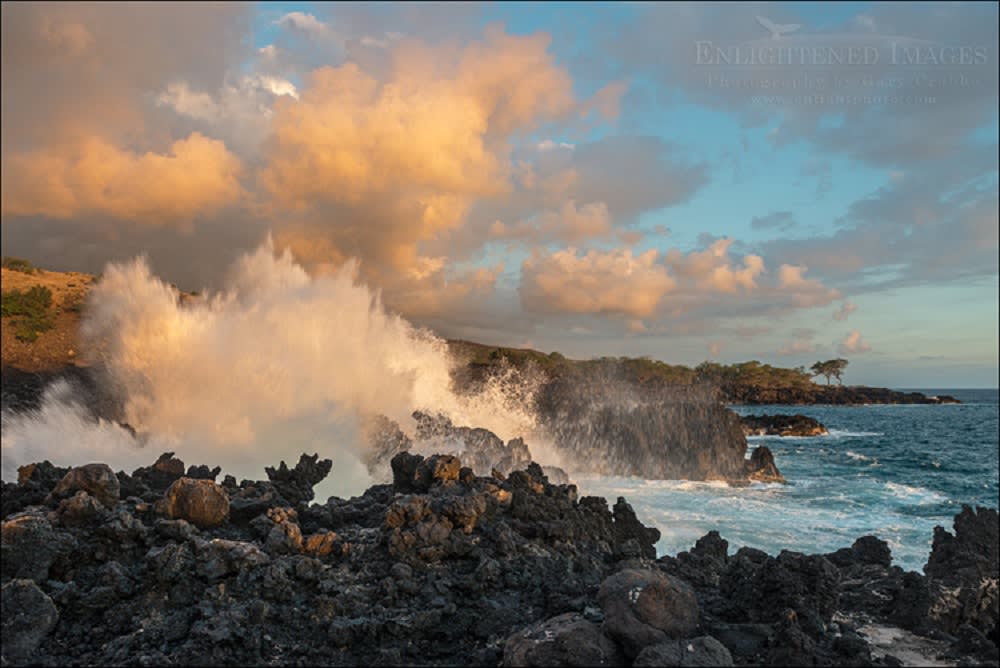 Photo courtesy of enlightphoto.com
If jumping off a cliff into stunning blue waters is a part of your bucket list, head over to
the End of the World
. After all, this is not so much a technical "hike" but, rather, an experience that you won't soon forget. The trail itself, which is only about 0.3 miles long, leads to the 40-foot cliff that towers over the crashing waves of the Pacific Ocean. When you're ready, take the leap!

When planning your trip, keep a close eye on the weather and surf conditions. Cliff jumping is safest when the ocean is calm. On the other hand, if you want to see the exquisite views without the thrills, pack up a picnic basket and head to the top to watch a glorious sunset. This is an absolutely can't-miss adventure, whether you're seeking the adrenaline rush of cliff jumping or just want to enjoy an unforgettable ocean view.
4. Petroglyph Field
This one is for the history buffs.
The Puako Petroglyph Archaeological Preserve
is a 223-acre preserve that tells the story of ancient life on the islands. Here, you can check out over 3,000 ancient
petroglyphs
and Hawaiian lava rock carvings of turtles, humans, horses, canoes, and other sparks of daily living that hearken back to 1200 AD.
The short 0.5-mile round-trip
trail
to get to the preserve begins near the parking lot of the "King's Shops" and takes you through a thorny forest, so be sure to wear thick socks and proper shoes. This is a great day trip for a family adventure, perfect for spending some time outdoors while including some exciting educational elements for your kids and any history lovers in your family.
Make the Pono Pledge
These are only a few of the unbelievable hikes found near Kona, which has many more breathtaking viewpoints and immersive hiking and biking trails to offer. The area features far too many incredible outdoor adventures for you to experience them all during one short trip to the area.

Before your first hike, the Island of Hawaii Visitors Bureau and County of Hawaii encourage you to make the Pono Pledge — a vow to be pono ("righteous") to each other and the environment. It goes as follows:


I pledge to be Pono on the island of Hawai'i
I will mindfully seek wonder, but not wander where I do not belong.
I will not defy death for breathtaking photos, or venture beyond safety.
I will Malama (care for) land and sea, and admire wildlife only from afar.
Molten lava will mesmerize me, but I will not disrupt its flow.
I will not take what is not mine, leaving lava rocks and sand as originally found.
I will heed ocean conditions, never turning my back to the Pacific.
When rain falls Ma Uka (inland), I will remain above high ground, out of rivers and streams.
I will embrace the island's aloha spirit, as it embraces me.
Lawe i ka ma'alea i ku'ono'ono: "Take wisdom and make it deep."
So, if you want to explore more of Hawaii's best trails and vistas, consider
purchasing
your own beautiful piece of Kailua-Kona real estate.
When you're ready to take the next step to owning a luxurious piece of property in the Kona area,
Kris Hazard
is the Kailua-Kona realtor you can count on every time.
Kris
is backed by nearly two decades of real estate experience in the Kona area and works to personalize her relationship with each client. She will strive to meet your needs every step of the way and provide you with the expertise you need to land your dream piece of North Kona real estate.
*Header photo courtesy of elevation.maplogs.com